Ultimately, letting go of employees can be tough, especially when it's through no fault of their own and simply cannot be avoided due to cash flow issues. Perhaps you just had to make one of your friendly colleagues you have known for years redundant through unavoidable restructuring changes, or it may be the case that you have had to let many internal employees go due to a fall in the economic climate, meaning that unfortunate cost cuts and tough decisions have been needed.
By no means should this mean anything personal to yourself or the business. As far as you're concerned this was a necessary cut that was ultimately unavoidable, however, your employee may not see it the same way. They may be left feeling hurt and abandoned by the company and may feel as though they have been thrown into the deep end of the job market, with little sense of where to turn.
Employees may have been in the business for a while and might have lost sense of the job market, what it takes to search for a job, and may not have networked with people outside of your business industry for years, after all, why would they when they had a stable job in place?
Thus, many businesses do wish to provide their former employees with help for their future, as they have done with your businesses. With Gemma Bullivant outplacement services we have created a service that is flexible enough to meet the needs of every participant and leave your employees with a more positive sense of your employer brand.
What is Outplacement?
Outplacement' is the support given to employees that have been made redundant and are starting their new career search and may be in need of help and support when re-entering the job market to help accelerate their job search. In this transition period, when former employees are seeking help and support, many employers seek the help of a third-party outplacement service, who can do just that.
As with everything, the process of applying for a new job changes and evolves corresponding with technological changes. Many companies choose to alter their recruitment process every few years in response to innovative hiring methods to keep the recruitment process responsive for previous and new applicants. For instance, many companies are now using psychological methods to test the abilities of their applicants through numerical, psychometric and personality tests, used to cut down the number of applicants that get through to the final interview process.
People that have not engaged with the recruitment process for a number of years will have no experience with these new testing methods, and may fall behind other applicants if not properly supported.
What do Outplacement Services Provide?
Outplacement services 
provide support to employees
 that have recently left an organisation and need support in re-entering the job market and searching for new opportunities. Outplacement services can help to provide employees with the necessary market knowledge and updates in their industry so they are not disadvantaged in their new job search.
 Outplacement services
 also help with the emotional loss that comes with losing a job, and we offer various tailored solutions to overcome the 
emotional triggers of being made redundant
.
The Recruitment Process ​
While some may bounce back from redundancy and find a new job almost immediately, this depends on people knowing how to navigate the job market and how to position themselves against other job seekers. With the turbulent job market at present and the sheer number of job seekers aiming to achieve the same goal, finding the ideal next role can be a challenge, and it might be necessary to consider retraining or how skills might be transferable.
This can make things especially difficult for the former employees, as many may be forced to change career paths  entirely if the industry as a whole is undergoing difficulties. The outplacement process, provided by HR and consulting firms can help with the recent job loss, and have services in place to kickstart your next chapter in life: The Job Market.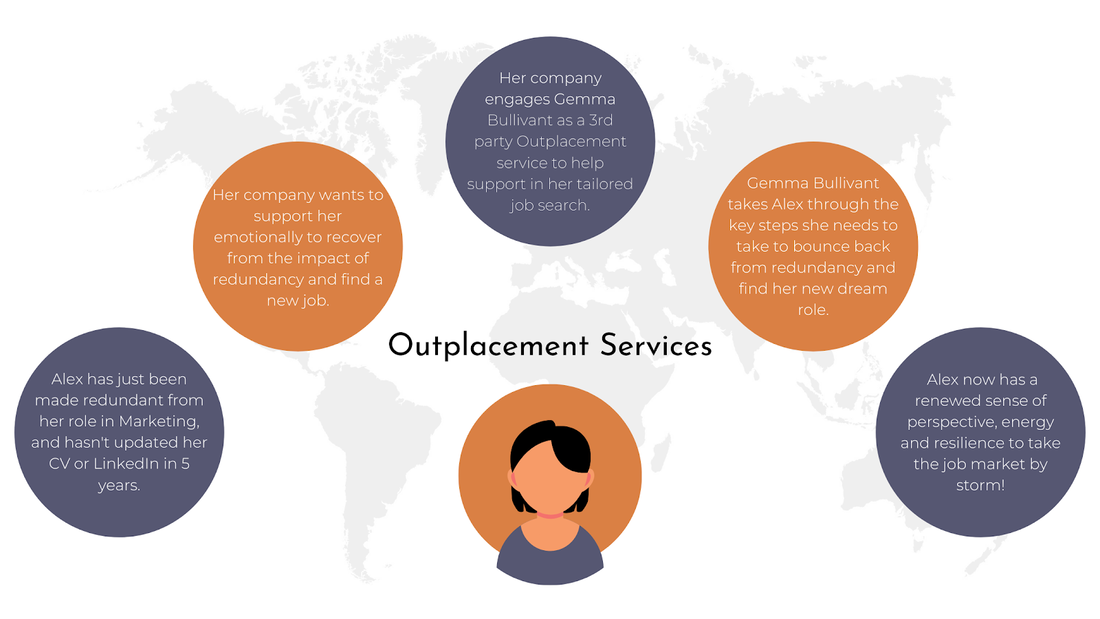 An example of who we can help with our personalised Outplacement Services and the steps that are often taken:
Alex has just been made redundant from her role in marketing. She has worked at the company for 5 years and hasn't updated her CV or LinkedIn since then.
Her Company wants to support her emotionally to recover from the impact of the redundancy, and practically to find a new job as quickly as possible
Her company engages Gemma Bullivant as a 3rd party Outplacement service that can help Alex with tailored job search support so she can find her next dream role quickly.
In this programme, Gemma Bullivant takes Alex through the key steps she needs to take to bounce back from the impact of redundancy and accelerate her search for a new job.
After receiving tailored outplacement support Alex now has a renewed sense of perspective, energy and resilience, a clear job search strategy and well-crafted CV and LinkedIn profile, and well-rehearsed interview skills and techniques to take the job market by storm!
Outplacement Services for Individuals ​
Losing a job can also be emotionally traumatic , and many people find it hard to come back from their job loss with the right mindset to find another job role. I understand the pains associated with losing a job, and I have the tools and support available to assist you in not just the practical aspects of losing a job, but the emotional aspects, too.
To arrange outplacement services for yourself or someone within your organisation, arrange a call with me today or learn more about the outplacement services I have to offer so you can support yourself and your former employees.
Outplacement Services for Groups ​
There may be times when your business has to make multiple employees redundant at once, and you may require a group redundancy support programme to support many employees at once. This personalised programme is designed to provide 20+ post-redundancy employees with dedicated job search training and support.
This programme will take post-redundancy employees through the key steps they need to take to bounce back from the impact of redundancy and kickstart their search for a new job.  The course will cover everything from dealing with the emotional impact of redundancy, to identifying key strengths and skills, building and using their network – all designed to help individuals stand out from the crowd and secure their next dream role.
If this sounds like something you may be interested in, get in touch today and I can guide you through the outplacement service process.